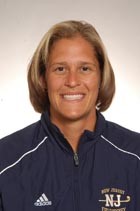 Selbst enters her 23rd season with the field hockey program and 21st with the women's lacrosse program at TCNJ.
During her tenure at TCNJ, Selbst helped the field hockey team to four national championships, nine final four appearances, and 19 NCAA tournament appearances. In lacrosse, the Lions have captured two national titles, advanced to the final four on 11 occasions, and qualified for 18 consecutive appearances in the NCAA Tournament.
She returned to her alma mater after serving for two years (1999-2000) as the assistant field hockey coach at Rutgers University. Selbst was not a new face to head coach Sharon Pfluger's staff, having served as a volunteer field hockey coach in 1995, then as a graduate assistant in field hockey in 1996 and 1997. She was a graduate assistant in lacrosse in 1997 and a volunteer assistant in both sports from the fall of 1998 to the spring of 1999. In 2010, she was named the IWLCA Assistant Coach of the Year.
From September 1998 to January 1999, Selbst taught elementary health & physical education at Barley Sheaf Elementary School in Flemington, NJ.
A three-sport standout at TCNJ, then Trenton State College, she played field hockey, softball, and women's lacrosse. In field hockey, Selbst was named to the All-America First Team twice and was a member of the Lion team that won the 1991 NCAA Division III Championship. The field hockey program compiled a 74-4-2 record in her four seasons at TCNJ. A four-year letterwinner in softball, Selbst was a two-time All-America First Team selection as well. TCNJ won the NCAA Softball Championship twice during her career. The softball program compiled a 179-20 in her four seasons at Selbst was also part of TCNJ's lacrosse team that won the 1996 NCAA Championship.
In the fall of 2012, Selbst earned a spot in TCNJ's Athletic Alumni Hall of Fame.
In 1993, she was invited to the U.S. Field Hockey Trials. Selbst won two bronze medals as a member of the U.S. Maccabiah Field Hockey Team that competed in Israel in 1993 and 1997.