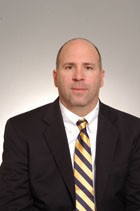 Head coach Dean Glus enters his 13th season in charge of The College of New Jersey baseball program after serving 16 seasons as an assistant coach.
During the 2018 season, Glus' program put forth another successful season. The Lions racked up a record of 29-11 and captured the New Jersey Athletic Conference regular season title. They advanced for the NCAA Division III Championships for the third consecutive season where in the Regionals they defeated Alvernia University by a tally of 5-2. Tommy McCarthy earned the NJAC Bill Dioguardi Player of the Year, while Matt Curry took home the NJAC Fireman of the Year. Both of those awards have been won by Glus' players in the last two years. Five Lions were also named to All-Mid Atlantic Region Teams.
Glus and the Lions completed a terrific season during his tenure in 2017 capturing both the NJAC regular season and tournament championships. The 32 win team advanced to the NCAA Regional, defeating Tufts University in their opening game. Two Lions earned All-American honors and Joe Cirillo was named All-Mid-Atlantic Pitcher of the Year.
Glus has enjoyed success in his first 11 seasons at the helm compiling an overall record of 276-175-1. The Lions have won 20 or more games in nine of 11 seasons under the North Braddock native, qualifying for the New Jersey Athletic Conference postseason tournament every year, including five NCAA championship tournament berths.
Coach Glus led TCNJ baseball to the 2008 and 2009 NCAA Regional Championship tournaments receiving an at-large bid in 2008 and an automatic bid in 2009 by winning the NJAC Championship tournament. In the 2016 season, Coach Glus lead the Lions to the NCAA Regionals for the first time since 2009 with a 32-12 record. That season marked the 20th appearance in the NCAA championship tournament in Lions' baseball program history.
As an assistant coach, Glus helped lead the Lions to a pair of World Series appearances in 1991 and 2002. The Lions were the national runner-up in 1991, falling just one game short of the title.
Glus is a former three-year letterwinner for the Mountaineers at Division I West Virginia University. As WVU's top reliever, Glus helped his teams earn NCAA Tournament bids in 1985 and 1987.
In addition to his involvement with numerous TCNJ baseball camps and clinics, Glus also served as a national coach in Estonia, for the Junior and National baseball teams in the Baltic States in 1991. In 1996, Glus was appointed to serve as a coach with the Roberto Clemente All-Stars in San Juan, Puerto Rico. In the summer of 1997, he traveled to Guam and the Philippines while participating in Major League Baseball's International Asian tour.
Glus is the proud father of his two daughters, Brynna, who was born on August 31, 2010 and Addisyn, who was born January 30, 2012. Glus resides in Tinton Falls, NJ.