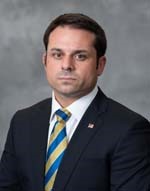 Galante enters his 10th season at the helm of TCNJ's program in 2020-21. Galante has produced a returning All-American in eight of his prior nine seasons after four underclassmen earned All-American honors in the 2019-20 campaign. Prior to the 2020 NCAA Mideast Regional, he was named NWCA Mideast Region Coach of the Year. He coached his second national champion in the 2018-19 season as Ryan Budzek went 5-0 at the NCAA National Championships. During the 2018-19 season, Galante earned his 100th career victory with a win over RIT. Galante was named NCAA Regional Coach of the Year.
In 2016-17, the team defeated eighth ranked Concordia College (Minn.) at the NWCA national duals for the 700th victory in program history. In 2015-16, Galante lead the Lions to an 18-3 overall record and a second-place finish at the NCAA Regional Championships. TCNJ had four wrestlers qualify for the NCAA national tournament with Doug Hamann earning All-American honors.
In the 2014-15 season, he guided the Lions to 17th place at NCAA Division III Championships. TCNJ also produced two All-Americans at the NCAA Championships. The Lions regular season was highlighted by 12 victories and a season-long team ranking.
The 2007 graduate of the college previously served as a health and physical education teacher at Alexandria Middle School for three years.
As a wrestler at TCNJ, Galante was a three-year letter winner and claimed All-American honors in 2005 and 2007. He finished fourth at the 2005 NCAA Championships and was a national runner-up his senior season in 2007. Galante won the 157-pound weight class at the Metropolitan Conference Championships in each of his three seasons and was a three-time national qualifier. He finished his standout career with a record of 84-15 and served as a team captain his final two seasons. His success wasn't limited to the mat as he was named to the National Wrestling Coaches Association Division III Scholar Team in 2007.
In high school, Galante was a 2002 NJ State Finalist at 145 pounds, two time Region 8 Finalist, three time District 32 Champion, and a member of Team New Jersey competing in Freestyle. In 2015, he was inducted into the South Jersey Wrestling Hall of Fame.
---