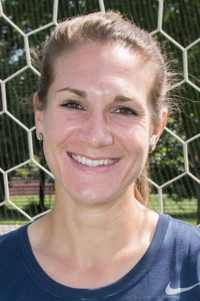 TCNJ Executive Director of Athletics Amanda V. DeMartino announced March 17 the hiring of Leah McDermott as TCNJ's new head women's soccer coach. A three-time national champion as a player at Messiah, McDermott spent the last four seasons as the head coach at Lebanon Valley College.
"We are excited to have Leah join our staff as our next head women's soccer coach," DeMartino said. "This was an extremely competitive search. Ultimately, Leah demonstrated a deep understanding of the unique needs of this position, and we were inspired by her vision to maintain the existing culture that has made the program so successful while balancing moving the program into the future."
In her time at Lebanon Valley, McDermott coached the Dutchmen to three appearances in the MAC Commonwealth semifinals. In 2021, the Dutchmen finished second in the conference with a 7-1 league mark.
"I am extremely honored and excited for the opportunity to serve The College of New Jersey, the women's soccer program, and the community," McDermott said. "I would like to thank TCNJ Athletic Director Amanda DeMartino, Senior Women's Administrator Liz Shatkus, and the entire search committee for trusting me to lead the Women's Soccer program.
"I would like to extend my gratitude to Rick Beard, Stacey Hollinger and my players at Lebanon Valley College for an incredible journey," she said. "Lastly, to my husband Brian and children Brock and Blair, thank you, none of this would be possible without your love and support."
McDermott's journey at Lebanon Valley included 16 All-MAC Commonwealth players and a pair of All-Region selections. The women's soccer team at LVC carries a 3.5 team GPA and placed 19 team members on the Academic Honor Roll.
Prior to Lebanon Valley, McDermott spent two seasons as the head coach at Lancaster Bible while posting a 25-18-1 mark. Her 25 wins rank third in school history, and her .580 winning percentage ranks second. She coached 11 All-NEAC performers and led the team to the conference final in 2016.
McDermott started her coaching career as an assistant coach at Bucknell for four seasons following an outstanding playing career at Messiah. She won three national championships while appearing in a fourth.
As a junior in 2010, McDermott earned Second Team All-Mid-Atlantic Region honors. As a senior in 2011, she was named All-MAC Commonwealth First Team. In her four-year collegiate career, Messiah went 96-1-4.
McDermott becomes just the second coach in program history after Joe Russo retired following the 2021 season when TCNJ reached the NCAA national championship game. Russo retired with 557 wins and three national championships as the founder of the program in 1990.
"The TCNJ women's soccer program is one of the best in the nation for developing young women both on and off the field," McDermott said. "Winning here is not accidental, and I am committed to continuing to uphold the high standards of the women's soccer program. To the women's soccer players past and present, I respect you greatly and know what it takes to achieve the greatness that this program has. I intend to continue that pursuit and to grow this storied program."