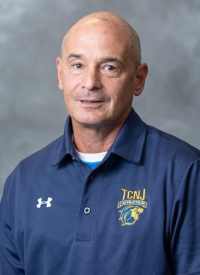 Joe Russo has been the head women's soccer coach at The College of New Jersey since the program's inception in 1990 and built the program into a perennial national powerhouse. The TCNJ women's soccer program has captured three NCAA Division III titles winning in 1993, 1994 and again in 2000. They have qualified for 29 straight NCAA tournaments and the Lions are the all-time leaders in victories in tournament play with 65.
Entering his 31st season, Russo owns a career mark of 535-66-44, with all 535 of those wins coming while coaching on the Lions' sidelines. He ranks second in NCAA Division III history and fourth all-time across all NCAA Divisions in wins. Russo is also ranked fifth all-time in NCAA history in winning percentage (.864). A total of 33 players have earned 43 All-American honors under Russo, led by Kim Faust (1995) and Victoria Nusse (2000), who were each named NSCAA National Player of the Year. In 2017, Russo became the fourth coach in NCAA Women's Soccer history to top the 500-win plateau. Under Russo, the Lions have registered eight 20-win seasons and have captured double-digit wins in all 30 seasons.
TCNJ enjoyed another successful season in 2019. Russo's Lions posted a record of 17-2-1 and captured their third-straight NJAC Championship. TCNJ defeated Montclair State, 3-2, in double overtime to capture the conference title. The Lions made their 29th-straight appearance in the NCAA Tournament, where they defeated John Jay 8-0 in the first round. Kelly Carolan and Nicole DiPasquale earned United Soccer Coaches All-America honors.
Since women's soccer was introduced as a conference sport in the New Jersey Athletic Conference in 1994, Russo's Lions have dominated the league. They have boasted an impressive 189-15-12 record and claimed 19 of the 25 championships.
In February of 2019, Russo was inducted into the New Jersey Youth Soccer Hall of Fame. In addition to his contributions as the TCNJ head coach, Russo coaches the New Jersey branch of the Olympic Development Program. He led the NJODP U-17 team to back-to-back regional titles in 2010 and 2011. Russo is also active in camps and clinics in the tri-state area, ranging from camp director to guest speaker.
Russo was chosen as the 1993 NSCAA/Umbro Division III National Coach of the Year as well as being named Regional Coach of the Year in 2017. He has been selected as NJAC Coach of the Year nine times and is a six-time honoree as the New Jersey College Coach of the Year.
A native of the Trenton area, he is well-known in area soccer circles. Prior to taking over the women's program, Russo served as an assistant men's soccer coach at the College for seven seasons (1981-87) and twice during his tenure (1981 and 1984) the Lions gained NCAA Tournament bids.
In 2013, Russo received one of most prestigious honors of his coaching career. He was inducted into the Mercer County Soccer Hall of Fame.