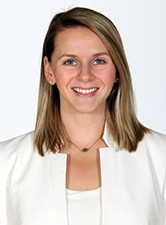 Entering Sixth Year as TCNJ Head Coach in 2022
Alma Mater: Williams College '11
Hometown: Goleta, CA
Education: B.A. Political Science; M.S. Exercise and Sports Studies, Smith College

Chessie Jackson enters her sixth year as TCNJ women's basketball head coach in 2022-23. TCNJ has reached the NJAC semifinals in each of her first five seasons, including a league title and trip to the NCAA second round in 2018, her first year in charge.
The Lions will take plenty of momentum into the upcoming season following an exhilarating run to the NJAC championship game as the No. 8 seed. Julia Setaro was named to the All-NJAC second team, her second straight all-conference nod.
Jackson coached TCNJ to a 9-1 record in the 2021 season, when the Lions advanced to the NJAC Semifinals for the fourth consecutive season. She coached Shannon Devitt to WBCA First Team All-America honors, which marked the first All-American for the program since Hillary Klimowicz in 2008-09. Devitt was also named D3hoops.com Second Team All-Atlantic Region, NJAC Defensive Player of the Year, and First Team All-NJAC. Jackson led three of her players to All-NJAC honors in Devitt, Setaro, and Elle Cimilluca.
In her first season, Jackson led the Lions to the team's first NCAA Tournament appearance since the 2008-09 season. She was named NJAC Coach of the Year in 2017-18 and 2018-19. Jackson was also named D3Hoops.com Atlantic Region Coach of the Year in 2017-18. She has coached 12 All-NJAC performers including five First-Team honorees.
Jackson came to TCNJ from Princeton University, where she served as assistant basketball coach for the Tigers since June of 2015. She has also been an assistant coach at Smith College and the University of Rochester, following her playing career at Williams College.
While serving on the coaching staff at Princeton, Jackson assisted with recruiting, scouting, on-court skill sessions, and daily administrative duties. The Tigers enjoyed a historic season in 2015-16, compiling a record of 23-6 and becoming the first Ivy League basketball program to receive an at-large bid into the NCAA tournament.
At Smith College, Jackson was an assistant coach and recruiting coordinator, while also serving on the Athletics Leadership Development Program. She also coordinated recruiting at the University of Rochester along with her coaching responsibilities.
Jackson was a four-year starter at Williams College and was named captain her senior year. She ranks fourth all-time in program history in points (1,346) and ninth in rebounding (635). Jackson was a first-team All-NESCAC selection in 2010-11 and was also named Williams College Women's Basketball Most Valuable Player. The Ephs made two NCAA appearances during her tenure and advanced to the Sweet Sixteen her junior season.
After graduating with a bachelor of arts in political science with a concentration in leadership studies, Jackson became a graduate assistant coach at Smith College, where she earned her master's of science in exercise and sports studies.
Jackson hails from Galeta, CA where she attended Dos Pueblos High School.