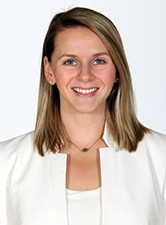 Year of Service: 2nd
Alma Mater: Williams College '11
Hometown: Goleta, CA
Education: B.A. Political Science; M.S. Exercise and Sports Studies, Smith College

Chessie Jackson excelled in her first season at the helm of the women's basketball program. The Lions posted a record of 22-7, and advanced to the New Jersey Athletic Conference Championship game as well as the NCAA Division III Championship Tournament. The 22 wins is the highest in a single season since the 2008-09 season, and the NCAA Appearance was the first since the '08-09 year as well. Jackson was named the D3Hoops.com All-Atlantic Region Coach of the Year and the NJAC Co-Coach of the Year. Jen Byrne was named to the D3Hoops.com All-Atlantic Region 2nd Team as well as the All-NJAC 1st Team, while Shannon Devitt was named NJAC Rookie of the Year.
Jackson arrived from Princeton University, where she served as assistant basketball coach for the Tigers since June of 2015. She has also been an assistant coach at Smith College and the University of Rochester, following her playing career at William College.
"I am honored to take on this role as head women's basketball coach at The College of New Jersey," said Jackson. "I am particularly excited about the opportunity to work with a group of women who are talented, bright, and eager to continue building on past successes while striving for new heights. It is clear to me that TCNJ is a place that values excellence in all arenas, and I look forward to helping our program set a new standard of excellence moving forward. I am grateful to be joining the Lions' family, and I look forward to forming bonds within our immediate team as well as the broader TCNJ community."
While serving on the coaching staff at Princeton, Jackson assisted with recruiting, scouting, on-court skill sessions, and daily administrative duties. The Tigers enjoyed a historic season in 2015-16, compiling a record of 23-6 and becoming the first Ivy League basketball program to receive an at-large bid into the NCAA tournament.
"Chessie will be a great addition to the TCNJ community," said Princeton University women's basketball Head Coach Courtney Banghart. "She will lead with passion and compassion, a clear sense of purpose and competitive drive, and will be a valued teammate in the athletic department and in the greater school community. Our players, coaches, administrators, recruits, and donors experienced her selfless commitment and genuine spirit and were touched in a meaningful way by her contribution. While we hate to lose her, we wholeheartedly celebrate her next steps and we are so grateful that she is close by."
At Smith College, Jackson was an assistant coach and recruiting coordinator, while also serving on the Athletics Leadership Development Program. She also coordinate recruiting at the University of Rochester along with her coaching responsibilities.
Jackson was a four-year starter at Williams College and was named captain her senior year. She ranks fourth all-time in program history in points (1,346) and ninth in rebounding (635). Jackson was a First Team All-NESCAC selection in 2010-11 and was also named Williams College Women's Basketball Most Valuable Player. The Ephs made two NCAA appearances during her tenure and advanced to the Sweet Sixteen her junior season.
After graduating with a bachelor of arts degree in political science with a concentration in leadership studies, Jackson became a graduate assistant coach at Smith College. At Smith, she earned her master's of science in exercise and sports studies.
Jackson hails from Galeta, CA where she attended Dos Pueblos High School.

| | | | |
| --- | --- | --- | --- |
| Year     | Overall Record | NJAC Record | Postseason |
| 2017-18     | 22-7 | 15-3 | NJAC Tournament Qualifier, NCAA Tournament Qualifier |