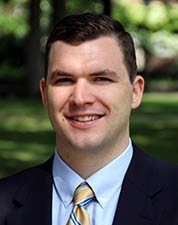 Alma Mater: Amherst '08
Year of Service: Fourth
Education: Bachelor's Degree, Political Science; Master's Degree in Sports Management, University of Massachusetts, Isenburg School of Management
Hometown: Morristown, NJ

Goldsmith arrived at The College of New Jersey in March of 2015. He has compiled a record of 53-27 in his first three seasons guiding the Lions, advancing to the semi-finals of New Jersey Athletic Conference playoffs each season, including a trip to the NJAC Finals in 2016. In his first three seasons, Goldsmith has coached six All-Conference performers with four earning First-Team honors.
In 2017-18, TCNJ finished second overall in the NJAC with a conference record of 14-4 for the second straight season. They earned a first-round bye in the tournament, advancing to the semifinal match. The Lions accrued an overall record of 19-7 on the season and had a pair of players named to all-conference teams, Eric Murdock, Jr. as an All-NJAC First Team selection. Goldsmith was named John K. Adams NJAC Coach of the Year. 
In his first season, Goldsmith led the Lions to the New Jersey Athletic Conference Tournament championship game. It marked the first time since 1998 that TCNJ appeared in the tourney final. The Lions went on the road to knock off Ramapo College before eliminating top-seeded New Jersey City University to gain a spot in the tournament championship.
TCNJ finished with a 16-12 overall record. They averaged 75.7 points per game and led the NJAC in three-point shooting, averaging 9.6 three-pointers made per game.
Goldsmith arrived from Amherst College, where he was an assistant coach for three seasons and a member of the Jeffs national championship team in 2007. Goldsmith returned to his home state of New Jersey, where he was a resident of Morristown and graduate of Delbarton High School. He is also the founder of GBA and is a camp clinician during the summer months.

Goldsmith enjoyed tremendous success with the Amherst program as an assistant coach and also during his playing career. In his first season on the coaching staff in 2012-13, Goldsmith helped guide Amherst to a 30-2 record and the second national title in program history. The following season, the Jeffs made their fifth appearance in the Final Four and boasted a season mark of 27-4. This past winter, Amherst went 21-8 and advanced to the second round of the NCAA championship tournament.
In addition to his success with the Jeffs, Goldsmith spent time as a volunteer assistant coach for USA Basketball during the past two summers. In June 2013, he assisted the Men's 2013 FIBA World Champion USA Under-19 National Team. This past summer he helped with individual workouts during practice, while volunteering with the 2014 Men's National Team that captured the gold medal. During those coaching experiences, Goldsmith was able to glean valuable experience and wisdom from elite coaching minds such as Mike Krzyzewski, Jim Boeheim, Billy Donovan, Tom Thibodeau and Monty Williams.
A 6' 6" forward with the Jeffs, Goldsmith continued his playing career after graduation. He played professionally in Germany for TV Werne 03 during the 2008-09 season, before returning to his native New Jersey to serve as an assistant to alumni & development at the Delbarton School. A political science major, he also served as assistant men's varsity basketball coach at Delbarton before returning to Amherst.