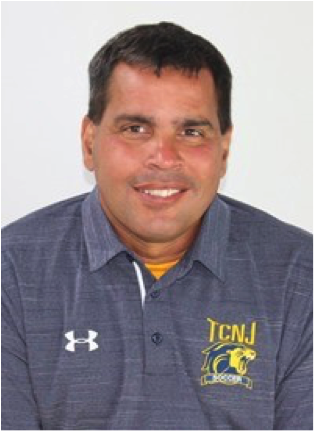 Coach Nazario enters his 25th season as Head Coach of The College of New Jersey men's soccer program. He has compiled an overall record of 234-171-50 and posted 13 winning seasons during his tenure.
In 2018, Nazario led the Lions to a 10-6-2 record. TCNJ put forth its best start to a season since 1994, as the Lions came out of the gates hot for a 7-0 start. TCNJ won the tournament titles in the Drew Fall Festival and the TCNJ Men's Soccer Classic. Nick Sample was named First Team All-South Atlantic Region as well as NJAC Midfielder of the Year, while Ryan Vazquez was named Third Team All-South Atlantic Region.
In 2016, the Lions finished with a record of 9-9-2, qualifying for the New Jersey Athletic Conference playoffs and reaching the semifinal round. Four players were named to conference team, including All-NJAC First Team honors for seniors Nick Costelloe and Dominic Polidoro. Following the season, Nazario was inducted into the Seton Hall Athletics Hall of Fame.
Nazario opened the 2015 season by capturing his 200th career coaching victory, resounding with a 5-0 win over York College (NY). The  Lions posted a 10-5-2 overall mark, defeating three teams ranked in the top 25.
TCNJ has competed in four NCAA Division III Championship tournaments during Nazario's reign, including a national championship title in 1996. The Lions boasted a record of 14-3 in the NCAA tournament during those four trips and were national runner-up in 1997.
In October of 2011, the 1996 men's soccer team that captured the NCAA national championship title was inducted into TCNJ's Athletic Alumni Hall of Fame. Jason Cairns '97, a member on that championship squad, was inducted as an individual in the spring of 2017.
In 2010, TCNJ compiled a record of 9-6-4 (7-1-1 NJAC) and finished first in the conference regular season standings. As a result, Nazario was named the 2010 NJAC Coach of the Year. The Lions advanced to the NJAC tournament championship game before falling to Kean University 1-0 in double overtime.
Nazario has twice been named NCSCAA Metro Regional Coach of the Year, making him a candidate for the NSCAA National Division III Coach of the Year. The first was in 1996 when Nazario guided his troops to capturing the school's first-ever men's soccer NCAA national championship. He won the award a second time in 2005 when the Lions went 16-3 and advanced to the NCAA quarterfinal match.
Nazario had an exceptional playing career earning All-American honors at Union High School and winning a national championship with the Union Lancers Under-19 Team in 1987. In college, he led Seton Hall University to three Big East Conference championships and four NCAA Division I Championship tournament appearances in 1986, 1987, 1988, and 1990. He was twice named Big East Player of the Year in 1987 and 1990 and served as the Pirates team captain in 1990. Following his collegiate career, Nazario was a member of the Puerto Rican National Soccer Team from 1992 to 1998.
Prior to taking over TCNJ's men's soccer program, Nazario served as an assistant men's soccer coach for Seton Hall University for three seasons. He served as the athletic director of the Union Lancers Youth Club from 1995 until 1997 and also served as head coach of the Union Lancers Under-16 Youth Team.
Nazario is currently head coach of the Under-18 PDA Larsson Team affiliated with the Players Development Academy (PDA).
In January of 2007, Nazario was married to Carol Pierce. The couple resides in Hightstown, NJ.